Feeling those summer vacation vibes? Right now, enjoy up to 30% savings on your Sonesta visit when you book and stay two or more nights by September 15 and use code SUM2023. ​
Just think: more quality time with the family, more chances to catch up with friends, or more one-on-one time with that special someone. However you celebrate summer, enjoy a little extra on us.​
Stay 2 Nights - Save up to 10%  ​
Stay 3 Nights - Save up to 15% ​
Stay 4 Nights - Save up to 20% ​
Stay 5+ Nights - Save up to 30% 
Rate is subject to availability, and blackout dates may apply. This offer may not be combined with other promotions, offers, or discounts and is not valid for groups of nine or more, past stays, or existing reservations. Other restrictions vary by hotel. At check-in, the front desk will verify your check-out date. Rates quoted are based on check-in date and length of stay. Should you choose to depart early, price is subject to change based on actual nights booked. Must book and stay with promo code SUM2023 by September 15, 2023.
Planning Comes with Perks
Save up to 15% when you book seven or more days in advance.
Park & Stay
Book our parking package for your Sonesta stay and enjoy a convenient space for your vehicle.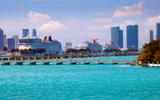 Stay & Sail - Cruise Package
Experience the best of both worlds as you indulge in comfortable room accommodations before setting sail to explore the wonders of the open sea.