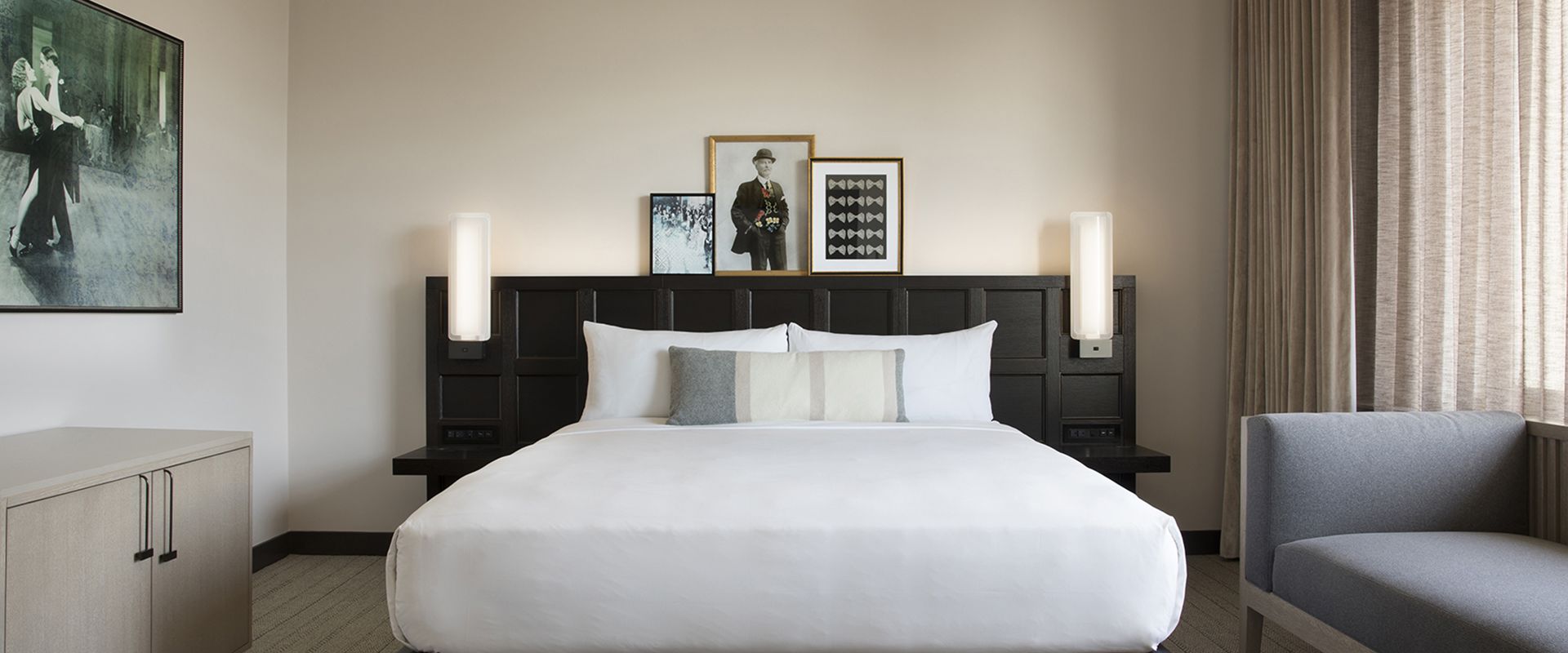 Stay Safe at The Clift Royal Sonesta Hotel
We'd like to start by first thanking you for trusting us during these very challenging times. Like you, our entire team is anxiously awaiting our return to a full operations of luxury services and guest experiences. However, until the day comes, we want you to know that we are fully committed to making the best of the current situation, and that we will do our very best to help you Stay Safe with Sonesta.
As part of Sonesta's continuing commitment to health and safety, and following the guidance of CDC and other experts, Sonesta hotels require all guests and associates to wear masks in indoor, public areas.
Full Stay Safe with Sonesta program details can be found at Sonesta.com/staysafe. Below are highlights of how it is being implemented at our hotel:
In addition, as of the 20th of August 2021, San Francisco local ordinance requires that any patrons dining or drinking in Frederick's, the Redwood Room or in any of our event spaces provide proof of vaccination to enjoy these venues. This vaccination requirement does not apply if you are ordering food and drinks "to go."
The Fitness Center, located on the 2nd floor is open 24/7. Per San Francisco local ordinance, it is currently accessible only to guests who will show proof of vaccination. Please stop by the Front Desk to get a key for access.
Limited-contact check-in and check out.
Employees will always maintain 6-feet of social distancing.
Guests must sanitize hands prior to riding the elevator.
We are currently providing light touch housekeeping service during your stay, every third day.
Additional housekeeping service can be requested either at time of check-in or by 6PM the previous night.
Guests must depart the room while our housekeeping team is present and servicing the room.
We can make arrangements to provide clean linens, towels and non-essential items (robes, slippers, laundry bags, pen, paper, etc.) that have been removed from your room. Requests can be made via our internal texting service or by dialing "0."
Valet parking is available through the hotel, self-parking options are also available locally.
Laundry & dry-cleaning services are available Monday, Wednesday, Thursday and Friday.
On demand mini bar items are available upon request via our internal texting service or by dialing "0."
The following outlets are temporary closed: In Room Dining
The iconic Redwood Room is open Thursday, Friday and Saturday nights from 6PM to midnight (12AM)
Starting August 5th, Fredericks, our new eatery, will be open daily for breakfast, 7AM - 11:00AM. "Grab and Go" option is available during Fredericks opening hours.
List of available local restaurants is available at the front desk and here.

At The Clift Royal Sonesta, each member of our team is proud, passionate and dedicated to your satisfaction during your stay. Please do not hesitate to reach out directly to me or to any of our team members and we will make everything possible to make your stay even more memorable.
Thank you for staying at The Clift Royal Sonesta. We're grateful that you have chosen us for your visit to San Francisco and we trust your stay with us will be memorable and safe.
We look forward to welcoming you on your next trip to San Francisco!
During these challenging times, tell us how we're doing to help you Stay Safe with Sonesta: (888)SAFE-050 or staysafe@sonesta.com.