The Benjamin Royal Sonesta New York
Midtown East NYC Hotel
Check-in:
4:00 PM
|
Checkout:
11:00 AM
Situated on the corner of 50th and Lexington Avenue in Midtown Manhattan, The Benjamin Royal Sonesta New York is conveniently located close to world-renowned luxury brands along Fifth Avenue, Rockefeller Center, and St. Patrick's Cathedral.
The Benjamin Royal Sonesta exudes old-world Manhattan with its classic décor, intimate boutique setting, oversized rooms, and luxury suites, providing a sense of sophisticated glamour in New York City.
Choose from our selection of luxury hotel guest rooms and suites, including one-bedroom suites with kitchens and balcony suites with inspiring views of Midtown Manhattan.
Long Live the Guest at The Royal Sonesta.
Read More +
Explore Sonesta
Lights, Camera, Action
With tickets for two, discover the iconic locations in New York City where your favorite tv shows and movies were filmed.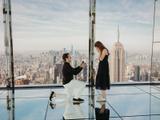 Love is in the Air
Elevate your love to new heights with the ultimate proposal package at SUMMIT One Vanderbilt.
NYC Hotel Week
This new year celebrate with 24% off stays in New York City.
Explore the Area
What's Nearby
About The Hotel
Hotel Details
Manhattan's Landmark Hotel. Classically Now. Classically NY.
Established in 1927 as the Beverly Hotel, The Benjamin Royal Sonesta's Neo-Romanesque edifice is considered to be one of the most recognized works by famed architect Emery Roth. The edifice even inspired legendary artist Georgia O'Keeffe who chose it as the subject of her piece "New York—Night."
Originally designed as an apartment hotel with wind-swept terraces to entertain, The Benjamin Royal Sonesta now boasts a distinctly residential feel with artistic elements throughout, inspiring guests to consider it more of a personal pied-à-terre than a hotel.
Our boutique hotel features 209 rooms and suites, including 50 studios and 98 one-bedroom suites.
The Benjamin Royal Sonesta has been awarded the honor of NYC Landmark status. Recognized as one of the premiere hotels built in the 1920s, The Benjamin represents the early evolution of skyscraper design in New York City. The hotel's special character and special historical aesthetic have contributed to its value as part of the development, heritage, and cultural characteristics of New York City.
Explore and experience The Benjamin Royal Sonesta New York.