55+ enjoy a special discount up to 25% off.
Discount varies based on the actual travel dates
No minimum stay
Cancellation policy varies with your travel dates. Please check the cancel policy in the reservation system when selecting your dates.
Subject to availability. Rate is for 55+ only and valid ID with birthday date is required upon arrival. Failure to show a valid ID will result in full rate charge. 
Members Always Save More
Sonesta Travel Pass members save even more with a discount off our best available rate.
Planning Comes with Perks
Save up to 15% when you book seven or more days in advance.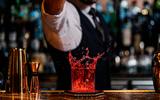 Shake Up Your Stay
Make it special from the start with a voucher for two complimentary cocktails. Cheers to you!