Welcome to Ibague
Check-in:
4:00 PM
|
Checkout:
11:00 AM
Sonesta Hotel Ibagué is just 22 minutes from Perales Airport and 10 minutes from the center of Ibagué, located in one of the commercial, commercial and tourist development areas of the city. Offers 91 comfortable, modern and fully equipped rooms. It offers two modern meeting rooms; Equipped with AV services, flexible to perform different events. In addition, it offers the CUCUANA restaurant, on the main lobby on the fifth floor and the CAÑA BRAVA bar-terrace on the 13th floor, where you can see a majestic 360° view of the Musical City of Colombia.
Ibagué is a Colombian municipality located in the center-west of Colombia, on the Central Cordillera of the Andes between the Combeima Canyon and the Magdalena Valley, near the Nevado del Tolima. It is the capital of the department of Tolima. To learn more about one of the most diverse region of Colombia, click here.
Read More +
Special Offers
Deal & Offers In Ibagué
Soak Up More Summer
Save up to 30% on your Sonesta summer getaway when you book and stay two or more nights by September 15. Longer stays mean more savings. Don't forget the sunblock.
Save More. Every Time.
Sonesta Travel Pass members always enjoy our best rates. Book the Sonesta Travel Pass Member Rate and receive perks on your very first stay.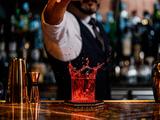 Shake Up Your Stay
Make it special from the start with a voucher for two complimentary cocktails. Cheers to you!
Explore the Area
What's Nearby
About The Hotel
Hotel Details
About Our Ibagué Hotel
For those seeking modernity and comfort in Ibagué, the Sonesta Hotel Ibagué offers a unique business hotel concept in Ibagué with a privileged location: within the Acqua Shopping Complex, which includes the World Trade Center, the new Ibagué business center.
In addition to a delicious cuisine, heated outdoor pool, spa with sauna, free Wi-Fi, gym and indoor parking, the Sonesta Hotel Ibagué is a hotel with rooms for exclusive corporate and social events.
The luxurious services our hotel in Ibagué include:
Front desk 24 hours, with personalized attention.
Transfer to Airport: Connection in just 20 minutes to the Perales Airport
Indoor parking space at no cost for guests.
Meeting and Events locations
Free Wifi: With access in all hotel facilities.
Outdoor heated swimming pool
SPA, a space dedicated to well-being
Café Bar and a lively snack bar in the pool area.
Fitness Center
Laundry service
Room service
Elevators and disability access
Check In & Check out
Our check-in time is at 3:00 p.m. and the check-out time is at 1:00 p.m.
Business Center
Stay always connected in our equipped Business Center.
Spa
Our Spa on the 13th floor will allow you to live a relaxing experience, with services provided by Zivia Spa
Fitness Center
Visit Spinning Center Gym at the Acqua Business Center, with whom our hotel has an special deal for our guests to maintain their healthy lifestyle.
Parking
Enjoy the convenient privileges of covered parking at the Sonesta Hotel Ibagué, at no cost to guests.
Swimming Pool
Relax in the pool of the new Sonesta hotel Ibagué. Surrounded by spectacular views of the city, it is a splendid oasis located on the 13th floor.
Due to local regulations hours and capacity of the pool may vary. To check availability please contact the front desk.
Transportation
Move around easily, we provide transfer services to and from the Perales National Airport
Pet friendly
At the moment the hotel is not accepting pets; however we offer our partnership with 911 Kelev to coordinate Petcare services during your stay.
Contact the 911 Kelev Call Center at +57.315.333.4370 to coordinate the pick up of your pet or for more information, please contact our reservations department.