Visiting Hospitals in Jacksonville
Visiting Hospitals in Jacksonville
Welcome! At the Sonesta ES Suites Jacksonville, we offer more then just a place to stay, we give visiting patients a place to relax, a place to work comfortably and yes… a place that's just a little more fun.
We are pleased to share that we now offer a special extended-stay rate based on length of stay to those guests who are traveling to nearby hospitals in the Jacksonville area.
Naval Hospital Jacksonville - 15.0 miles
UF Health Jacksonville - 13.1 miles
Mayo Clinic - 11.8 miles
St Vincent's Riverside - 11.5 miles
Jacksonville Veterans Clinic - 11.4 miles
Wolfson Children's Hospital - 9.5 miles
Baptist Heart Hospital - 9.5 miles
MD Anderson Cancer Center - 9.5 miles
Baptist Medical Center Downtown - 9.5 miles
Baptist Medical Center South - 7.4 miles
Memorial Hospital - 6.4 miles
Memorial Health Care Plaza - 6.4 miles
St Vincent's Medical Center South - 3.6 miles
Conveniently located to nearby hospitals and clinics in Jacksonville, Sonesta ES Suites invites guests to enjoy our surprisingly different take on an extended stay hotel. Here you'll find a home away from home with bright places to work, play and relax.
Reserve Our Special Rate
To make reservations for your upcoming visit to Jacksonville, call Sonesta ES Suites Jacksonville directly and speak with our Director of Sales, or book direct below using the following promo code: MED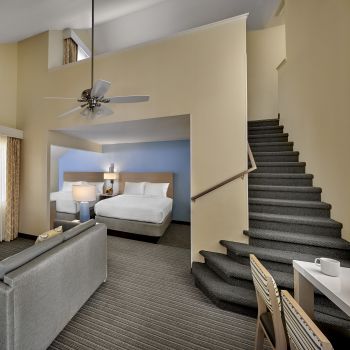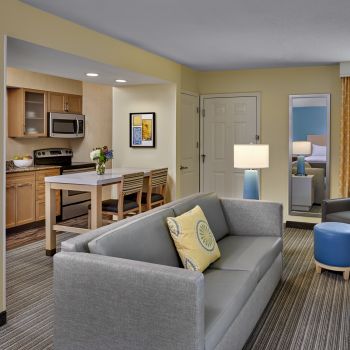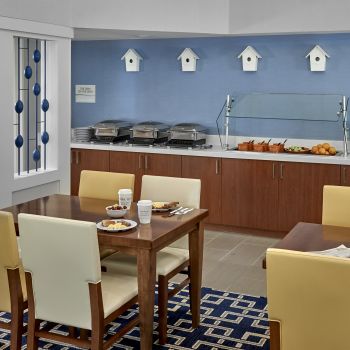 About Our Hotel
We are pleased to share our Jacksonville Hotel has been newly re-imagined. Patients visiting Jacksonville hospitals will appreciate everything from the central location to our oversized suites. We've designed the accommodations in our all-suite hotels to be as flexible as the needs of our guests.
We pride ourselves on doing everything we can to surprise you by providing fun, friendly people who care about you and will be there to help when you need it. Come see what makes Sonesta ES Suites amazing!
The convenience doesn't stop there. Our Hotel also offers:
Free WIFI
Free daily hot breakfast buffet in the dish
Free evening socials two nights per week
BBQ and picnic facilities
Join our loyalty program and start enjoying perks from the moment you enroll.
the nest: Hang out in the nest, a new twist on the family living room where you can socialize, eat, drink, or just relax.
the shoppe: A convenient spot open 24 hours a day so you can grab a variety of snacks, candies, beverages, ice cream, frozen foods, essential toiletries and more.
the mat: Our new fitness facility that helps keep you healthy while on the road.
the dip: Refresh and relax in our outdoor seasonal pool.
Parking and Directions
Enjoy complimentary parking at our hotel near the Jacksonville hospitals.  
Visit our hotel's getting here page for driving directions.