Our neighbors throughout the Caribbean can enjoy a special discount of up to 50% off with our Caribbean Residents rates.
Discount varies based on the actual travel dates
No minimum stay
Cancellation policy varies with your travel dates. Please check the cancel policy in the reservation system when selecting your dates.
Book online or call 1.800.223.0757 (US & Canada) and use promo code: CARIB
Terms and conditions: Subject to availability. Rate is for Caribbean residents only and a Caribbean address must be used during the reservation process. Proof of residency and Caribbean ID verification is required upon arrival. Failure to show a valid Caribbean resident ID will result in full rate charge. All general terms and conditions apply.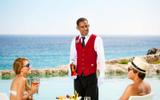 Butler Suite Sale
Save 45% off and enjoy maximum service with minimum intrusion in our best suites!
The Suite Love Honeymoon
Now that it's official, newlyweds can celebrate their love in style with the Suite Love Honeymoon Package.

Standard Rate
Our best, unrestricted, all-inclusive rate is available year-round and offers a flexible cancellation policy.