Includes:
Breakfast buffet
Welcome Drink
Transfer to and from the Osorno Airport
*Cancellation policy 48 hours or one night charge will be applied

5 Days Early Booking Special
Book in advance and SAVE 15%!
Shake Up Your Stay
Make it special from the start with a voucher for two complimentary cocktails. Cheers to you!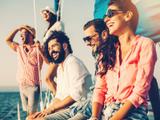 Members Always Save More
Sonesta Travel Pass members enjoy a discount when booking direct. Always. No strings attached. One more way that your membership brings you more.