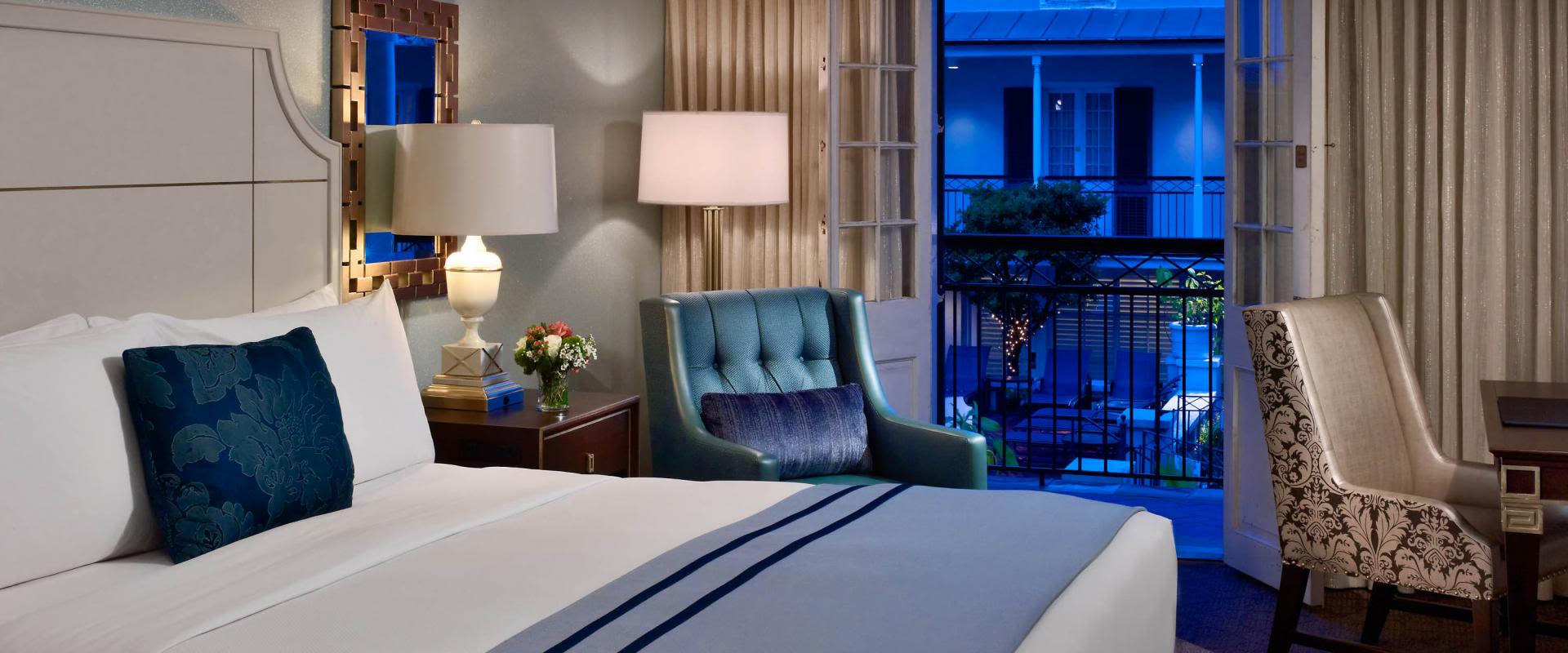 Stay Safe at Royal Sonesta New Orleans
We'd like to start by thanking you for trusting us during these very challenging times. Our entire team is delighted that you are staying with us and we want you to know we are committed to making the best of the current situation, and that we will do our very best to help you Stay Safe with Sonesta.  
Full Stay Safe with Sonesta program details can be found at Sonesta.com/StaySafe, and below are highlights of how it is being implemented at our hotel:
In accordance with the CDC guidelines, fully vaccinated guests are no longer required to wear face coverings in public areas. Face covering are still required for individuals that are not fully vaccinated.
Limited-contact check-in and check-out.
Valet Parking will be available. City of New Orleans is performing road work on Conti Street.  Due to intermittent road closures enter the parking garage from Bienville Street.

Overnight parking is $40.00 per night, plus tax

Guests and employees will always maintain 6-feet or social distancing.
Limited number of guests on all of our elevators, and guests must sanitize hands prior to riding the elevator.
Social distancing must also be maintained in all public spaces; lobby, restaurants, fitness center, and pool.
We are not currently providing housekeeping service during your stay. We can make arrangements to provide clean linens and towels on request.
Additional towels, linens and non-essential items (laundry bags, pen, paper, etc.) that have been removed from your room are available upon request.
The Fitness Center and Pool are open and operational.
The following outlets are operating with a limited menu and adjusted hours. Please note that these times are subject to change. 
Restaurant R'evolution

Dinner
Wednesday, Thursday and Saturday, 5:00 p.m. - 9:00 p.m.
Friday and Saturday, 5:00 p.m. - 10:00 p.m.
Curbside valet parking is available.
Reservations strongly recommended.

Desire Oyster Bar

Breakfast, Lunch and Dinner
Sunday - Thursday, 7:00 a.m. - 10:00 p.m.
Friday - Saturday, 7:00 a.m. - 11:00 p.m.
Reservations strongly recommended

The Jazz Playhouse

Wednesday - Friday, 6-10 p.m. Saturday 6-10 p.m.
Wednesday and Thursday shows start at 7:30 p.m.
Friday show starts at 6:00 p.m. and 9:00 p.m.
Saturday show starts at 8:00 p.m.

PJ's Coffee Café

Sunday - Thursday 7:00 a.m. - 4:00 p.m.
Friday - Saturday, 7:00 a.m. - 8:00 p.m.

Le Booze

Thursday - Sunday, 3:00 p.m. - 10:00 p.m.

Oasis Pool Bar

11:00 a.m. - 7:00 p.m.
Grill on Pool Deck Thursday-Sunday and Menu available for Desire Oyster Bar
We look forward to welcoming you to New Orleans!
During these challenging times, tell us how we're doing to help you Stay Safe with Sonesta: (888)SAFE-050 or staysafe@sonesta.com.