The new Sonesta Travel Pass rewards program offers free nights, our best rates, and more, on your very first stay. New members earn 500 bonus points instantly, upon signup. Even better: Sonesta Travel Pass now makes it faster for your reward points to get you where you're going next.
Book online or call 1.800.223.0757 (US & Canada) and use promo code: TPMEM
Rate is only available to Sonesta Travel Pass members with a valid Travel Pass ID on the reservation. By booking this rate, non-members agree to enroll in the Sonesta Travel Pass program and accept the terms and conditions of the program. Rate valid in the United States and international Sonesta locations, not including cruises. You must book with the promotional code TPMEM. Offer subject to change and subject to availability. The discount is on the best available rate. Not be combined with other discounts, packages or promotions.
Book online or call 1.800.223.0757 (US & Canada) and use promo code: TPMEM
Special Offers
Other Offers from The Royal Sonesta Harbor Court Baltimore
Explore All Offers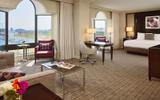 A "Suite" Deal
Elevate your stay in one our oversized, luxurious suites with spectacular harbor views, overnight parking, sparkling wine and dining credit to Formula Espresso.
Planning Comes with Perks
Save up to 15% when you book seven or more days in advance.
Aquarium Adventure Package
Includes tickets for 2 adults and 1 child to the National Aquarium and overnight parking.