Sonesta Travel Pass members enjoy a minimum discount when booking direct. Always. No strings attached. One more way that your membership brings you more.
Rate is only available to Sonesta Travel Pass members with a valid Travel Pass ID on the reservation. By booking this rate, non-members agree to enroll in the Sonesta Travel Pass program and accept the terms and conditions of the program. Rate valid in the United States and international Sonesta locations, not including cruises. You must book with the promotional code TPMEM. Offer subject to change and subject to availability. The discount is on the best available rate. Not be combined with other discounts, packages or promotions.
Planning Comes with Perks
Save up to 15% when you book seven or more days in advance.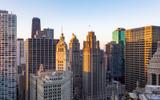 Bonus Nights In Chicago
Book our Bonus Nights exclusive offer and stay three nights for the price of two.
But First, Coffee
Fuel your mornings with a complimentary Starbucks gift card.